For all grocery orders, please email: lawhonenterprises@yahoo.com with all the details of your grocery order.
We understand that you have been planning and looking forward to your vacation time at the beach, and whether you have spent hours on an airplane, or hours driving, the last thing you want to do is drive to the grocery store and wait in long checkout lines.
Lawhon Enterprises proudly serves North Topsail Beach, Surf City, Topsail Beach and the surrounding area. We personally deliver your groceries to your vacation property, leaving you more time to relax and enjoy the beach.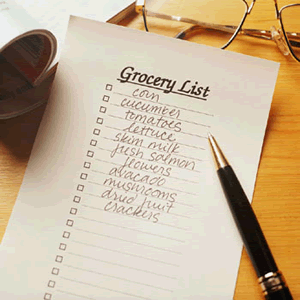 Grocery shopping is a personal thing for many people, so it is important for us to build trust with our clients, local property management firms and property owners, and to provide them with a reliable service to accommodate every possible need. We focus on the details: cold items are arranged neatly in the refrigerator; boxed and canned items are organized in the cupboards and pantry; even water bottles and soda cans are out of their cardboard containers, with no trace of the waste.

TREAT YOURSELF:

Why not have Lawhon Enterprises take care of all your grocery shopping needs? Wouldn't it be nice to arrive at your vacation retreat and finding it fully stocked with everything you need the moment you walk through the door? Don't waste precious vacation time shopping. Let us do it for you!  Deli items, fruits and vegetables, fresh meat and seafood, toiletries, baby products and more can all be ready and awaiting your arrival. 

AT YOUR SERVICE:

It's easy! Simply fill out our online shopping list at least one (1) week prior to your arrival date. Please be as specific as possible. If your preferences are unavailable, a comparable product will be substituted. We will contact you by telephone to confirm your order and payment information. A 48–hour cancellation notice is required with a minimum $50.00 cancellation fee. Specialty orders are non-refundable.

OUR FEES:

Lawhon Enterprises provides an affordable way to keep your vacation kitchen stocked with all your favorite items, without ever having to leave your vacation retreat!  If you run out of something, or arrive and realize you have forgotten to order something, give us a call!  We will deliver those items right to your door (Please allow 6 hour notice). 

We charge $50.00 for shopping AND delivery plus 15% on the total grocery and beverage items purchased.  Price includes delivery and set up.

We accept VISA & MasterCard.

In order to process your order we must either have your Credit Card on file or have a $200 deposit via PayPal. You can also call 352-201-0175 during business hours to make other payment arrangments.